Series III - Rotax Twin Engine Heads
Heads for Series III (600,600 RS, and 800) and IV (800R) Ski-Doo Motors
Array
Description
Heads for Series III (600RS,600 and 800) and IV (800R) Ski-Doo Engines
Ski Doo's Series III engine's stock "conical" combustion chamber head is a very inefficient head design that has a very poor combustion efficiency. Our "Hemi" design utilizes tighter squish clearances and a narrow squish band which will increase combustion efficiency and produce a more centralized push on the piston, thus increasing power. End gases will NOT be trapped in the squish band where they can't contribute to the power process. Squish velocities are calculated to insure a safe reliable combustion process. The added cooling ALONE! will greatly aid in maintaining performance. The stock head has insufficient cooling flow for the engine. This allows for an engine that is running much hotter than it should be.. which, in turn, robs power! (and nobody needs that)
The RK Tek Combustion Chamber design is unique enough to be patented..and IS PATENTED!
For those of you who are un-happy with the fuel economy (or lack of it) with your Series III Engines.. Adding the head, ALONE, will allow for MUCH leaner jetting thus greatly increasing fuel mileage!! For example... 2001 800 Twin.. Stock = 500 main jet.. Installing the head, ONLY, you will run a 420 main jet!! Can you say " MORE FUEL ECONOMY??"?
After installing the Torque-Line Head, the engine would continue to pull when the stock engine would power out. The difference was HUGE when hill climbing.
We took the extra time and put a very nice finishing touch on the design. This included inner and outer radii, hose relief, and stock locating of temperature sensor.
All heads are bright clear anodized, or color anodized for added protection against the elements. Special colors can be made with the proper notice.
Rotax Series III and IV (800R) Twin Engine Heads - All 600, 700 and 800 Models: $465.00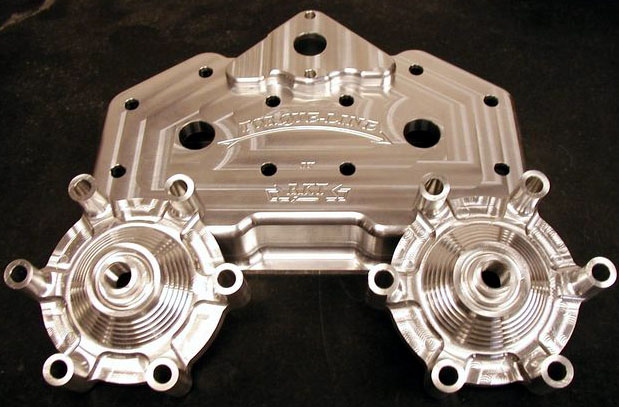 Rotax Series III Cheater Head: $365.00
Rotax Series IV (800R) Cheater Head: $365.00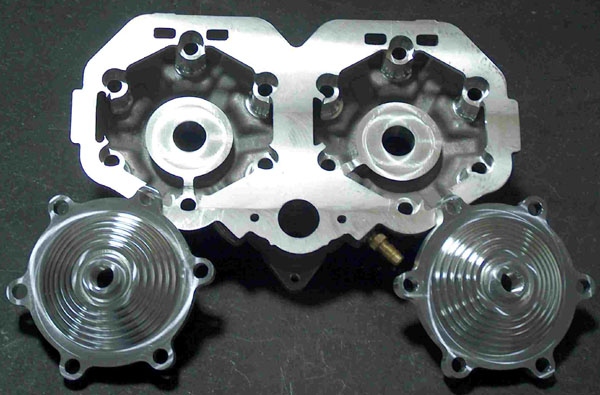 Rotax Series IV (800R) Billet Head: $465.00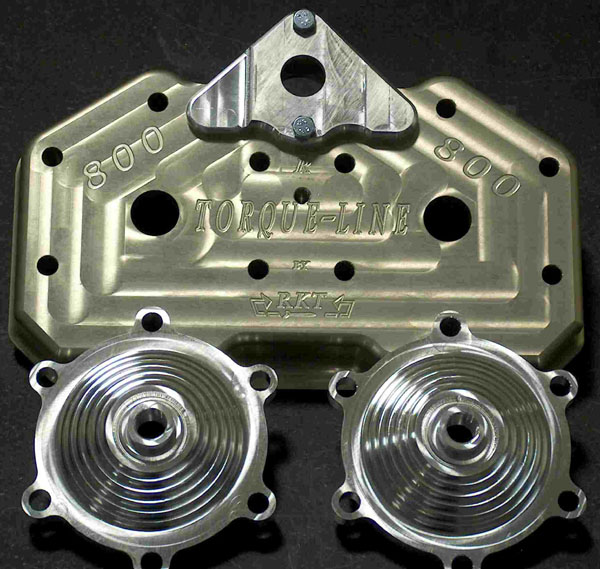 All of our testing is done "real world" we do NOT give false dyno reports, we test "real world" which we feel is the only testing that is worth anything.